Andele Restaurant: New, larger facility, same great authentic Mexican food and awesome service. Beer and wine available. Catering services and banquet room. Located at 1950 Calle del Norte Onate Plaza. Open Mondays 8 a.m. - 2:30 p.m.; Tues.- Sun. 8 a.m. - 9 p.m. (575)526-9631.
email: andrea@andelerestaurant.com. website: www.andelerestaurant.com.
Andele's Dog House: Patio Grill. Specializing in Sonoran hot dogs and other popular Mexican "street" food. Beer and wine available. Located at 2184 Avendia de Meislla. Hours: noon - 8 p.m.; closed Wednesdays. (575)526-9333
Café Don Felix: On the Historic Old Mesilla Plaza at 2290 Calle de Parian, serving fine Mexican food, salads & sandwiches. Dine in or Carry Out. Phone in orders welcome. Hours: Mon. 11-6, Tues. & Wed.11-2:30, Thurs. 11-6, Fri. & Sat. 11-8 & Sun. 9 a.m.-11 a.m. (575) 527-0008.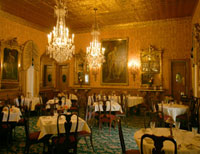 Double Eagle de Mesilla: On the Plaza, filled with art, sculpture and antiques. Serving aged steaks! Site #42 on the State's Green Chile Cheeseburger Trail. World's largest green chile cheeseburger. Nationally recognized wine list and award winning margaritas. People's Choice Winner for Sunday Champagne Brunch. Ask about the Gosts! Open Mon.- Sat. 11a.m.-10p.m. Sunday 11a.m. - 9p.m.
(575) 523-6700.
email: doubleeaglerestaurant@live.com website:www.double-eagle-mesilla.com
El Comedor Restaurant: Open Mon.-Thurs. 8:00a.m.-8:00p.m.; Sun.9:00 -3:00. Located at 2190 Avenida de Mesilla. (575)524-7002
El Paisano Café: Breakfast, Lunch and Dinner Served Daily. Baked Goods, Omelettes, Burritos, Eggs Benedict, Croissants. Gourmet Sandwiches, Wraps, Salads, Quiche, Soups. Lattes, Cappucinos, Great Desserts. Located at 1740 Calle de Mercado C. (575) 524-0211.
El Patio Cantina: A family owned bar, El Patio has been in business on the Plaza for seventy-five years. We are a full service bar, open daily, serving drinks in a friendly atmosphere and featuring live music most nights. Package goods available. Located at 2171 Calle de Parian. Open Mon-Tues: 4 pm to 2 am; Wed-Sat: 2 pm to 2 am; and Sun 12 noon to 12 am. (575)526-9943
Josefina's Old Gate: Cafe. Breakfast and lunch inside or on the patio. Home made soups and fresh baked pies and pastries. Daily specials. Located at 2261 Calle de Guadalupe. Hours: Tues.- Sat. 8a.m - 3p.m.; Sun. 9a.m. - 3p.m (575)525-2620.
La Posta de Mesilla Restaurant, Cantina & Chile Shop: World Renowned. Famed for Mexican Food and Steaks Since 1939. Located in the 1840's Historic Old Butterfield Stage Building, 2410 Calle de San Albino. Best margaritas and largest tequila selection in the Southwest. Visit our gift shops. Hours: 11am-9pm Mon.- Thurs. & Sun.; 11am-9:30p.m. Fri. & Sat.
(575)524-3524. email: laposta@zianet.com. website: www.laposta-de-mesilla.com.
Lorenzo's de Mesilla Italian Restaurant: Lorenzo's has been serving the Mesilla Valley since 1995. We specialize in authentic Italian cuisine but have created several dishes with a chili twist. Lorenzo's has live weekend entertainment, outdoor patio seating, great wines and friendly service.
Open daily 11am to 9:30pm. Located at 1750 Calle de Mercado Suite 4. (575) 525-3170. email: catering@lorenzosdemesilla.com. website:www.lorenzosdemesilla.com.
Los Mariachis Restaurant: Bienvenidos Amigos. We are new in a business with experience of the old ones. Come in and enjoy from our variety of Mexican food for breakfast, lunch or dinner; Machaca, Huevos Rancheros, Tortas, Tacos de Asada, Gorditas, Enchiladas, Steaks and much much more. Homemade Aguas Frescas and our wonderful Tres Leches Cake, Cheesecake and Flan for Dessert. Menudo and Barcacoa on weekends. Open daily 7:00 a.m. to 9:00 p.m. Located at 2790 Avenida de Mesilla. (575)523-7058.
Palacio Bar: Located at 2600 Avenida de Mesilla, (575)525-2910
Peppers Café: Southwestern Santa Fe Style food offered in a 156 year old haunted house. Green Chile Cheeseburgers and New Mexican plates, big salads and great sandwiches. Icy cold 16 oz. Margaritas and home-made desserts including must try Banana Enchiladas! Open Mon-Sun 11:00a.m.-10:00 p.m. (575)523-4999.
Wild West Expresso: Featuring a full coffee bar with freshly roasted coffee blends, espresso, cappuccino, iced lattes and assorted cold beverages. Gourmet pastries and desserts plus light sandwich snacks. Located adjacent to Billy the Kid Gift Shop. Open daily 9:30-5:00.
(575)523-5562. www.mesilla.com